As of May 8th Gov. Cooper announced the beginning of Phase 1 for the re-opening of NC as it relates to Covid-19. As the criteria for each phase is met, your church Session is closely monitoring so we can take the next steps toward resuming a full schedule of events. In the meantime, here is what you should expect…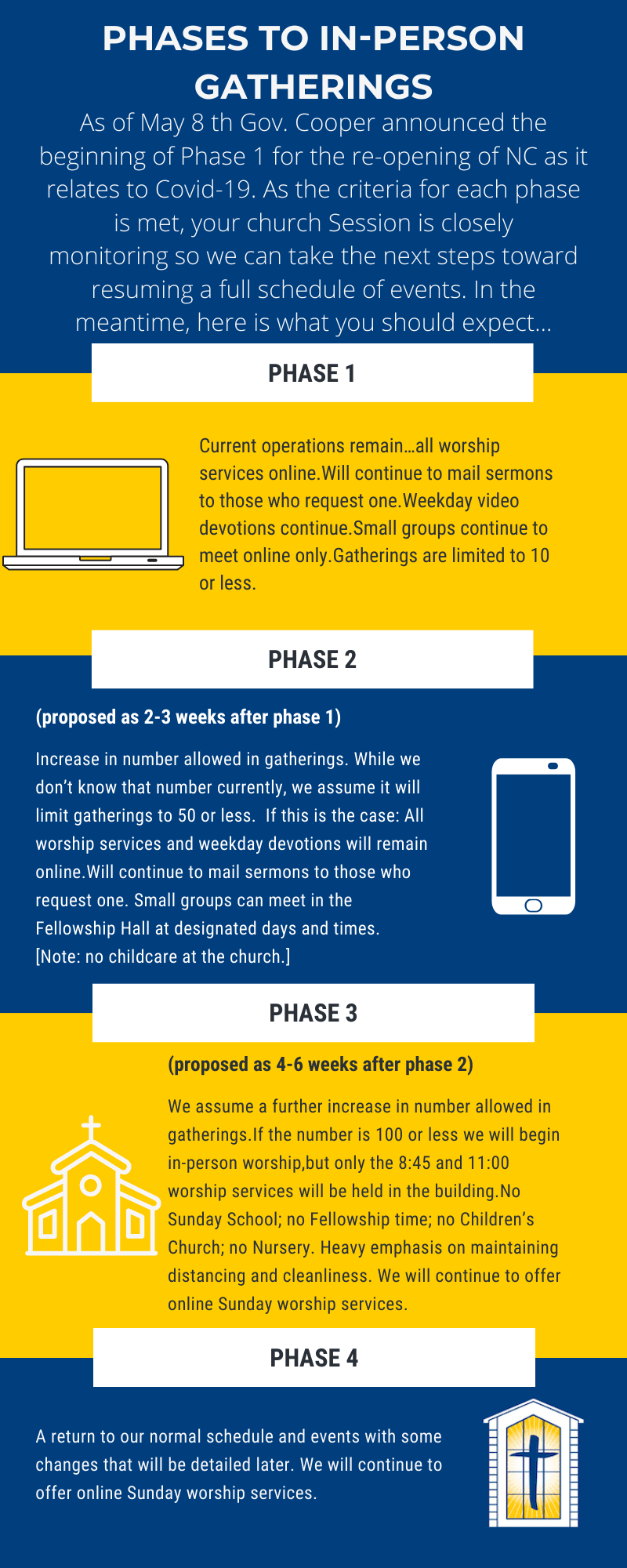 CHurch office open;all other activities cancelled/postponed
The church office is OPEN for you to stop by, but all other church activities are cancelled/postponed until further notice. We encourage you to continue to connect with one another virtually or by phone. Don't forget to let us know of any needs you're aware of within our community. Please share this information, especially with those you know are not on social media.
Worship gatherings online only
We recognize the Coronavirus is on everyone's mind right now. The uncertainty of this outbreak is creating anxiety in our workplaces, schools, and day-to-day activities. Yet we remain certain of God's steadfast presence and careful attention to all that is happening. We know Jesus is still King and we will continue to worship Him, even if our corporate worship needs to be in a different format for a time.
We want you to know we are complying with government requests and recommendations. As a part of that, we are canceling our in-person Sunday gatherings effective immediately and until further notice. Instead, we will provide online streaming of both the 8:45 and 11:00 services, beginning this Sunday, March 15 on Facebook. Please stay tuned for more details about that and plan to join us online this Sunday! In the meantime, be sure you have "liked" our church on Facebook. You can go to fb.me/bhpres to find us!
While we cannot control the virus, the spread, or the impact it has in our church, we're doing everything we can to follow guidelines and make wise decisions. We appreciate your support and patience as we navigate these unprecedented times. As the church becomes aware of ways we can help tangibly, we will pass that along. Please also join us in praying for those who are affected by this illness, as well as their caregivers and those who are working around the clock to minimize the impact of this virus.
In Psalm 46, we are reminded that it is God who is our refuge and strength, and our ever-present help in trouble. Therefore, let us not fear, but with confidence use this opportunity to be the hands and feet of Jesus through our prayers and our care for others.
We look forward to seeing you online on Sunday!
For more information on COVID-19 and ways you can protect yourself, please visit:
https://www.cdc.gov/coronavirus/2019-ncov/index.html